Andrew Crofts is a ghostwriter and author who has published more than eighty books, a dozen of which were Sunday Times number one bestsellers. He has also guided a number of international clients successfully through the minefield of independent publishing.
"One of the most successful – if not the most successful ghostwriter in the world."

Claudia Winkleman, The Arts Show BBC Radio 2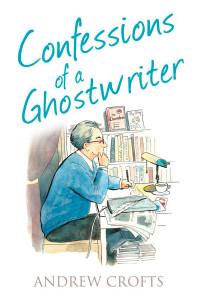 Andrew's name first became known among publishers for the stories he brought them by the otherwise disenfranchised. Travelling all over the world he worked with victims of enforced marriages in North Africa and the Middle East, sex workers in the Far East, orphans in war-torn areas like Croatia and dictatorships like Romania, victims of crimes and abused children everywhere. 
The enormous success of these books brought many very different people to his door; first came the celebrities from the worlds of film, music, television and sport, and then the real elite in the form of world leaders and the mysterious, powerful people who finance and, in some cases, control them.
"Andrew Crofts has had one of the most diverse and exciting lives I've ever come across"

Farm Lane Books Blog
Traditional publishers he has worked with include Arrow, Blake, Bloomsbury, Century, Ebury, André Deutsch, Hamish Hamilton, Harper Collins, Headline, Heinemann, Hodder, Hutchinson, Little Brown, Michael Joseph, McGraw Hill, Orion, Pan Macmillan, Penguin, Pocket Books, Sidgwick & Jackson, Sphere and Weidenfeld & Nicolson.
His fiction includes Secrets of the Italian Gardener, which draws on his experiences among the powerful and wealthy, Pretty Little Packages, a thriller based in the world of slave trafficking, and The Fabulous Dreams of Maggie de Beer, (a prequel to his traditionally published The Overnight Fame of Steffi McBride, now filmed and appearing in episodes on YouTube's This is Drama channel).
His books on writing include Ghostwriting, (A&C Black) and The Freelance Writer's Handbook, (Piatkus), which has been reprinted eight times over twenty years and Confessions of a Ghostwriter (Friday Project).
For Andrew's recommendations of the best books on ghostwriting, go to https://shepherd.com/best-books/ghostwriting
"Andrew Crofts is a hugely successful author – a literary gun for hire"

Nick Higham "Meet the Author" BBC News
Throughout his bestseller, The Ghost, Robert Harris quotes Andrew's seminal book, Ghostwriting. Harris's book went on to become a major movie by the same name, directed by Roman Polanski and starring Ewan McGregor as the eponymous ghost. The opening lines in Robert Harris's book sum up Andrew's philosophy:
Of all the advantages ghosting offers, one of the greatest must be the opportunity that you get to meet people of interest.
Andrew was on the Management Committee of the Society of Authors from 2012 to 2015. He lectures on the subject of making a living from writing at Kingston University, presents Masterclasses on the subject at The Guardian and frequently guests at writing workshops, literary festivals and in the media. He blogs regularly on matters pertaining to publishing, self-publishing and writing.
"When it comes to famous clients, he is as silent as Jeeves." –

Sinclair McKay, Daily Telegraph.