Read Extracts from Sold and Promise to Nadia
"Four months after the release of Dr Emmanuel Taban's uplifting life story, THE BOY WHO NEVER GAVE UP, it is number 1 on the list of South African topsellers (the list for South African authors only).
"Just to put it in context, in my 11 years in publishing I've never seen a book shoot to the number 1 position on any list so long after it had been published. Dare I say, it's something of a miracle, like Dr Taban's story.
"When we started working together, the ever hopeful and unbelievably driven Dr Taban always said, 'Annie, the book is going to be number 1.'
"In response I would just smile and try to manage those expectations, knowing the market is under pressure and that you simply never know how a book will do. He saw the doubt on my face and joked, 'You don't believe me! Don't be so cynical, just wait and see.'
"Today I can say, you were 100% right, Dr Taban, and I should've known not to doubt the boy who never gave up. Congratulations!"
Annie Olivier – Jonathan Ball Publishing
Emmanuel Taban was born in South Sudan to a single mother at a time of continual civil war and mass murder. In a country weighed down by poverty and corruption there was little hope that boys like him would survive through their childhoods, let alone go on to succeed as adults. Despite being imprisoned and tortured, Emmanuel was determined to make something of his life and end the cycle of poverty that his family was trapped in. He had no idea how to do that but he knew that he had to start by getting an education.
At the age of 15, with virtually no formal education, no identity papers, no money or possessions, he walked out of South Sudan in search of a better life. He had no clue what direction he should walk in or what he would find at the end of his journey. All he knew was that he couldn't give up; he had to keep walking until something good happened.
Eighteen months later, after living on the streets in a variety of cities, being repeatedly imprisoned for not having any papers and frequently cheated and robbed, he reached South Africa and found people who would help him get the education he craved.
He was unable to make contact with his family for ten years, but in that time he became a doctor and is now one of the most highly qualified consultants in the country, with political ambitions to return to South Sudan and help future generations to follow the same path to success.
Then COVID-19 struck and Emmanuel found himself facing a very different set of challenges. He became the first pulmonologist in the world to perform a therapeutic bronchoscopy on a hypoxemic COVID-19 patient, discovering that some deaths from COVID-19 pneumonia are due to fibrinous mucus plugs and that there is an association between IgG2 subclass deficiency and COVID-19 pneumonia severity.  
This is an inspiring story of hope, showing just how far you can go with nothing but hard work and determination.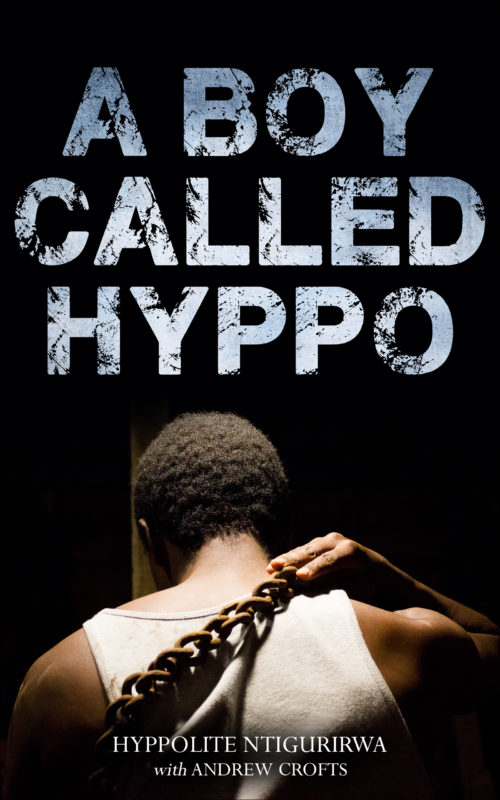 The shocking and inspirational memoir of a boy who survived the Rwandan genocide. When he was seven years old Hyppolite lost many members of his extended family and witnessed the murder of his beloved father.
Born in a mud hut without shoes, water or power and often hungry, he struggled after the genocide to gain an education and to learn to forgive the killers.
By the age of thirty he had graduated from university in Rwanda and worked as a journalist and radio presenter, a playwright and a theatre director.
He raised enough money to travel to England and achieved a Masters Degree in Sociology from Bristol University.
He started a Foundation for Peace in Rwanda and travelled to America to deliver a series of lectures at universities along the East Coast of America, including Harvard, using theatre to address issues of hatred and racism being transmitted from one generation to the next, looking from the perspective of a genocide survivor, who was also a sociologist and an artist, at how we influence people's attitudes to change.
In 2019, Hyppolite became an international news item when he performed a hundred-day walk across 1,500 kilometres of Rwanda to mark the 25th anniversary of the genocide, inviting people to join him and to share their stories of peace and forgiveness.
 "I read the book in one sitting. I could not put it down. It made me laugh and it made me cry. Hyppo is an extraordinary young man who has endured tremendous tragedy – and yet found the will to forgive those who murdered his family. Goodness radiates from him – and he attracts kind and generous people like a magnet. Everyone who reads this book will be inspired with hope for the future – and will want to help others."
– Professor Emma Sky OBE, Director World Fellows Programme.
Confessions of a Ghostwriter
by Andrew Crofts
(The Friday Project)
An entertaining memoir, looking behind the curtains of the secretive world of ghostwriting.
"He is disarmingly, charmingly frank"
         –Iain Finlayson The Times 
 "The voice bluffly clubbable …but culturally intelligent"                                                                                                  –Mark Lawson, New Statesman
"Andrew's social commentary on the publishing industry and the projects he's worked on are hugely insightful for anyone with a passion for writing … a fascinating peek into the life of someone who writes for the love of writing rather than the glory of having your name in lights."                                      – Natalie Xenos, Culturefly
"When it comes to famous clients, he is as silent as Jeeves." – Sinclair McKay, Daily Telegraph
"… the deals made, the professional relationships, the spontaneous and unreliable nature of the work and the wider world of commercial publishing … describing huge advances, bidding wars and readerships…"     Claire Hazelton, Times Literary Supplement
"… a ghostwriter who has led a life possibly more varied and interesting than some of those he writes memoirs for. This is fascinating stuff ... "    LovereadingUK
Secret Child
by Gordon Lewis and Andrew Crofts
(Harper Collins)
The unforgettable and inspiring true story of a young boy born an "unfortunate" onto the rough streets of 1950s Dublin and raised as a secret child in a home for unmarried mothers.
Amazon reviews
"Brilliant, beautiful book …"
"I felt I was beside him, living it with him …excellent read."
"The story is well told. I found it hard to put down."
"An excellently written book and is just as though the author is speaking to the reader."
"This is a page turner, could not put this down."
"A touching story of a poor beginning with an inspiring end."
Chances by Penny
(Red Door Publishing)
An anonymous memoir of love, sex and a second chance.
What if your first love was your soulmate and perfect sexual partner and you made the mistake of letting them go?
What if you were reunited with that first love after fifteen years of unhappiness and you were then able to fulfil every romantic and erotic dream you had ever had?
Penny and James were given that second chance. They grabbed it with both hands and never let go again.
"Intense and jaw-droppingly explicit memoir of lifelong love and attraction …"                                        Caroline Sanderson, The Bookseller.
The Change Agent – How to Create a Wonderful World
by Andrew Crofts
(Tonto Books)
Jim Martin, a shy boy from a poor family in Ashby de la Zouche, becomes a technology guru and futurologist and donates £100-million to Oxford, making him the University's biggest ever single donor. Andrew Crofts receives an urgent invitation to Jim's mysterious private island in Bermuda. The island gradually reveals its labyrinthine secrets as Jim explains the choice that now faces us all; to create the greatest Utopia ever, or plunge ourselves back into the Dark Ages, maybe even destroying Homo sapiens completely.
Listen to an interview about the book
"James Martin is indeed an influential technology leader"
Bill Gates
"James is one of those people who will look to the far horizons to find a solution. He's one of those rare people who has vision and makes things happen and that's why I believe he's such a fine role model".
Baroness Susan Greenfield.
Buy e-book from Amazon.co.uk
Mr. Music Man – My Life in Showbiz
by Mervyn Conn
(Tonto Books)
The famous music impresario tells of his rise from running a Soho drinking club at the age of 21 to creating the biggest country and western festival in the world, as well as running concerts for the Beatles, a farewell tour for Marlene Dietrich, bringing the Red Army to London during the Cold War and touring virtually every pop, rock and country star in the business.
Heart and Soul
by Melissa Bell
(John Blake)
The moving story of Melissa Bell, the singer, kidney dialysis campaigner and mother of X-Factor winner, Alexandra Burke.
Sold
by Zana Muhsen
(Little Brown & Warner Books)
Telling of her years as an enforced child bride in the Yemen. France's biggest non-fiction seller in 1992, it has sold four million copies around the world. Condensed by Reader's Digest and dramatised for Radio 4, the British paperback edition reprints regularly.
Five star Amazon readers' reviews
"I read (it) in three days as I could not put the book down – a great book and should be read without doubt, however very sad."
"I read this book in one day. It's the sort you never want to put down – This book is a must read and I would recommend it."
" I have read the book Sold twice now – The second book, A Promise to Nadia, is just as heartbreaking – Buy and read it, I promise it will haunt you."
"I read 'Sold' in French, which was a big challenge for me. However, I quickly found it so exciting the language didn't matter."
Disgraced
by Saira Ahmed
Headline
A young Muslim girl escapes an arranged marriage and is forced to sell her body in order to support the family who betrayed her.
and of course there's the Crofts factor
Caroline Sanderson, The Bookseller Magazine
For the Love of Julie
By Ann Ming
Element
The powerful story of how Ann Ming fought to change the 800 year old law of double jeopardy in order to bring her daughter's killer to justice.
Daddy's Little Earner
By Maria Landon
Element
On the day Maria was born her father boasted he would make her the best prostitute in Norwich.
The hardback went straight into the Sunday Times top ten on publication – and the paperback went straight to number two.
Cry Silent Tears
By Joe Peters.
Element
The heartbreaking story of a small mute boy who survived the worst fate imaginable at the hands of his own family, and eventually found his voice again.
The Hardback went straight into the Sunday Times top ten on publication – and the paperback went straight to number one.
Five Star Amazon Review
"This book is unputdownable. It is so well written from start to finish it just grabs you"
Cry Myself to Sleep
By Joe Peters
(Element)
The adventures and misadventures of the author of Cry Silent Tears after he ran away to London at 16 to live on the streets.
Went straight to the top of the paperback charts.
No One Listened
By Isobel and Alex Kerr
Element
The day their father violently murdered their mother, Isobel and Alex were left with no one but each other to rely on.
Pete – My Story
by Pete Bennett
(Element)
The story of the boy with Tourette's Syndrome who became the most popular British Big Brother winner ever.
One of the few celebs who really does have tales to share
– Heat
Five Star Amazon Reviews.
"A well written book that comes from the heart."
"Moving and fascinating read. Made me laugh and also made me cry."
"Pete's personality shone through."
"Delivered in a witty and humorous style."
The Little Prisoner
by Jane Elliott .
(Element)
This is the true story of a girl who was dominated, bullied and sexually abused by her stepfather. He held her prisoner in an emotional and physical nightmare for 17 years – until she fought back
The book went straight to number one in the Sunday Times list of harback bestsellers upon publication, becoming the best-selling hardback biography of the year. A few months later the paperback version also went to number one.
Extracts from five star Amazon reader reviews:
"This book touches the soul."
"I was moved to tears."
"I just could not put it down."
"A harrowing yet beautiful book. One of the best I've read …"
"The moment I read the first page I was hooked …"
"Extremely powerful and inspirational."
"So easy to read …."

Extradited!
By John Packwood and Jane Amestoy.
(Vision Press)
The story of an Englishman imprisoned while on holiday in Spain and extradited to Morocco, and his partner's yearlong struggle to establish his innocence and have him freed.
For a House Made of Stone
by Gina French
(Vision Press)
The tale of a girl from the Philippine mountains who found herself on murder charges in the North of England, via the bars of Manila and expat life in Brunei.
My mother loved this. She couldn't stop telling me…
Gaynor Thomas, Bookseller Magazine
…makes gripping reading
Mariella Frostrup, Open book, BBC Radio 4
…compelling …has a deeper resonance
Alice Fowler, Daily Mail
An incredible story
Fern Britten, This Morning, ITV
Andrew Crofts is without doubt a brilliant writer and if you're not sure about this book, just pick up a copy and read the very first sentence
Five Star Amazon Review
Betrayed
By Lyndsey Harris
(Century)
The winner of the True competition on the Richard & Judy Show, telling the story of a little girl who was cruelly framed for crimes she never committed by the person she trusted the most. The book went straight to the top of the hardback charts on publication and did the same in paperback.
Andrew, you have put my thoughts and feelings into words. It was much better than I could have hoped for, you understood me …
Lyndsey Harris
Please, Daddy, No
By Stuart Howarth
(Element)
The tragic story of an abused boy who ended up killing his dad, and then found himself trapped in a new nightmare. The book went straight to number one in the Sunday Times paperback charts.
A horrible story but told with such finesse that you never want to stop reading,"
– Five Star Amazon review
The Little Hero
By Andrew Crofts
(Vision Press)
A dramatisation of the true story of Iqbal Masih, a Pakistani slave boy turned human rights campaigner, who was assassinated at the age of 13.
Buy from Amazon.co.uk
A Promise To Nadia
by Zana Muhsen
(Little Brown)
A follow-up book to Sold, telling of the continued fight to save Zana's sister Nadia
Read extracts from the book
Buy from Amazon.co.uk
Five star Amazon readers' reviews
"I loved it"
"I highly recommend (it)."
Just a Boy
by Richard McCann .
(Ebury Press)
This true story of a five-year-old boy and his sister who woke up one morning to discover their mother had gone is also the story of how the murder of one woman can ruin a family and trigger decades of deprivation and abuse. It also shows how sometimes you just have to decide to survive.
Just a Boy spent two months in the Sunday Times top five hardbacks list and went straight to number one in the paperback list, staying there for six weeks.
Truly heartbreaking stuff
The Bookseller
Thank you to Andrew Crofts for waving his magic wand over my work
Richard McCann
Five star Amazon readers' reviews
"A stunning book…"
"Really well written and such a page-turner that I sat up long into into the night reading it."
"Never before have I come across a book written with such emotion and honesty"
Into the Light (retitled The Boy Grows Up in paperback)
By Richard McCann
(Ebury Press)
The inspiring follow-up to Just a Boy .
Five star Amazon readers' reviews
"A harrowing story with a magical ending, and one not to be missed!"
"Richard writes so easily you want to know what happens next."

Tears at Bedtime
By Tom Wilson
(Arrow Books)
The moving story of the boy who received the highest compensation payment ever given in Scotland for the abuse he received in a children's home.
The book went straight into the Sunday Times top ten on publication.
Shattered
By Mavis Marsh
(Arrow Books)
The story of how two loving parents refused to accept their son was a "vegetable" after a tragic accident, and worked together to bring him back to life. Runner-up in the Richard and Judy "True" competition.
We defy you not to shed a tear!"
OK! Magazine
Heroine of the Desert
by Donya Al-Nahi .
(Metro Publishing)
The controversial and moving story of a woman who reunites mothers with children who have been spirited out of the country by their fathers.
Andrew did all the work. He can put things into words in a way I can't. He wrote so beautifully about the way mothers react when they're reunited with their children – the way they smell them. It makes your hair stand on end to read it.
Donya Al-Nahi, Daily Telegraph.
A nail-biting page-turner
Sunday Express
The Kid – A True Story
by Kevin Lewis .
(Michael Joseph)
This moving story of an abused boy, his brushes with the underworld and eventual triumph over his background, spent several weeks at No. 2 in the Sunday Times hardback bestseller list and three months at number one in the paperback bestseller list, becoming the best selling paperback biography of the year
his spare and chilling prose….passages of heartbreaking frankness…. this absorbing, gruesome and salutary tale is told in anger but without any hint of bitterness. By the end your heart is overwhelmed by a range of conflicting emotions.
Lloyd Evans. Daily Telegraph
You cannot ignore this harrowing message …..devastating new book …. Kevin isn't the sort of man to write a book because he wasn't the sort of boy who learned to read. ….. I can't think of a story that is more unreadably sad than The Kid, or a story that it feels more essential to go on reading
Allison Pearson, London Evening Standard
grim but gripping … you may start this book in tears, but you finish it exultant.
Adriaane Pielou. You Magazine
A special thank you to Andrew for your help, professionalism and understanding. A rare gift to have all three. Cheers.
Kevin Lewis
One of the most shocking stories you will ever read.
Daily Mail
Extracts from five star Amazon reader reviews:
This is a must-read"
"A book you cannot put down."
"I have not read a book in a long time that has made me want to cry, laugh, smile, be happy, be sad and get angry."
"A deeply rivetting and moving account."
"I have got to say that it is brilliant."
"Very well written and extremely uplifting… Best book I've read for a very long time and I hope he writes more."
"Absolutely fantastic …An absolute must-read."
"Written expertly and comes from the heart"
Moving On
retitled The Kid Moves On in paperback
by Kevin Lewis.
(Michael Joseph)
A top ten sequel to The Kid
I didn't quite spot the potential of Book One but I won't be making that mistake again…
Caroline Sanderson, The Bookseller
Amazing Grace: Enjoying Alzheimer's
by Ray Smith .
(Metro Publishing)
The moving and controversial story of a husband who single-handedly nursed his beloved wife through Alzheimer's using nutrition, exercise, music, travel and plenty of love.
Ray Smith's loving account of how he cared for his wife –
Martha B. Holstein – The Lancet
My Family is all I have
By Helen Dear
(Ebury)
The story of an English woman who was trapped behind the Iron Curtain in Bulgaria for over fifty years.
Written with disarming honesty and simple, everyday language, Helen-Alice's account is moving in the extreme. She has an incredible eye – and memory – for the terrifying details of life under a ruthless dictatorship. At the end, when Helen-Alice's  64 year-old dream of freedom finally comes true, you feel like throwing you arms around her yourself.
Robbie Collin, News of The World
My Gorilla Journey
by Helen Attwater
(Sidgwick & Jackson & Pan)
The story of an English couple who ran an orphanage for gorillas in the Congo. (Serialised in the Sunday Telegraph)
Through Gypsy Eyes
by Kathy Etchingham
(Gollancz)
An autobiography from the heart of the sixties rock and roll establishment by Jimi Hendrix's girlfriend.(Serialised in the Daily Mail.)
A sparkly memoir

– Mail on Sunday.


…a tender memoir…vivid and engaging

– Patrick Humphries, The Times.


thoughtful….a morality tale about the consequences of the sexual and narcotic excesses of the 1960s….described with a touching lack of bitterness

– Robert Sandall, Sunday Times


…like listening to someone chatting about their life ….it is in the recording of the ordinary that the extraordinary strikes a chord

– Edinburgh Herald.


…an extraordinary life unfolds…Hendrix comes across as a sweet, gentle man…spine chilling descriptions…Her descriptions of the Sixties, when everybody mingled in clubs with no VIP rooms, are fun

– Caroline Boucher, Daily Telegraph.


Finally, here is a book that embodies the spirit of Jimi Hendrix, told by the person who knew Jimi more intimately than anyone during his rise to stardom….. she clarifies Jimi's lifestyle during his time in London astonishingly well. Of course, the added bonus in this book is its readability; I dare you to put this book down for more than five minutes once you have read about Ms Etchingham's childhood. In the space of about two hours, not counting a brief dinner break, I read this book from front to back. …… "Through Gypsy Eyes" is extremely engaging and easy to read. I got engrossed in this book from the first few sentences, and the intangible storytelling skill kept me glued to every page.

Five Star Amazon reader's review
The Disappearing Duke
by Tom Freeman-Keel & Andrew Crofts (co-authored)
(Carroll & Graf – New York.)
The mysterious tale of the double life of the 5th Duke of Portland.
…enjoyable… a neat package … A pleasure for mystery buffs.
Kirkus
Hijack!
by Lizzie Anders & Katie Hughes
(André Deutsch)
The story of two survivors of the bloodiest air hi-jack in history (serialised in the Daily Mail)
A really moving story. Could not put it down!
Four star Amazon reader's review
Leonard of Mayfair
by Leonard Lewis
(Hutchinson)
The rags to riches to rags memoirs of one the first and greatest superstar hairdressers in the world. (Serialised in the Daily Mail, publication delayed for legal reasons).
The juiciest book of the month…

– Nigel Reynolds, Daily Telegraph.


…the book's hype is at least 95 per cent true…

– Peter York, Mail on Sunday.


this engrossing and enjoyably gossipy memoir. The writing is strong, honest, and rich in little-known details that I can verify.

Shirley Conran, Harpers & Queen
The Tutankhamun Deception
by Gerald O'Farrell.
(Sidgwick and Jackson) – a controversial look at exactly what happened when Howard Carter and Lord Carnarvon discovered the famous tomb.
Extract from Amazon readers' reviews
"A superb read, something the established experts could learn from – this book is a must read – a brilliant book that inspired me to read more on the topic."
" …well written, and so it should have been, it was ghosted by Andrew Crofts!"
"A book that never repeats itself and continually drives the reader further into the book."
Changing Worlds
by Vanessa-Mae
(Virgin)
The autobigraphy of the legendary violinist, telling of her extraordinary childhood as a prodigy and her battle to win control over her career and life. (to be published)
Against All Odds – A Billionaire's Tale
by Tan Sri Loy
(Times Publishing, Singapore)
The rags to riches autobiography of a controversial Chinese billionaire.
Truly an epic tale of our times!

– New Straits Times
Fighting it Out
by Atannas Tillev
(Stacey International).
The autobiography of Bulgaria's wealthiest citizen and a portrait of a criminal government.
Do Robins Cough
by Beverly Peberdy
(Orion)
A moving story about working in the orphanages and mad-houses of Romania with the Sisters of Mother Teresa, and about Bev's subsequent adoption of one of the orphans. A UK and international Reader's Digest Book Choice.
Probably one of the most moving books ever written.

Five Star Amazon Review
Nowhere to Hide
by Susan Francis
(Weidenfeld & Nicholson)
Another Reader's Digest Book Choice. Reviews included:
heart-stopping detail…you can almost smell the hot spicy bread baking on every stove, and hear the hubbub from the chai khana… brings the Iraqi people to life, turning the seething, fanatical crowds into individuals

– Margarette Driscoll, Sunday Times.


A strange life, told here simply and well… makes almost unbearable reading… it is an important document… extremely readable book

– Caroline Moorehead, Independent.


A tale of stunning impact… a voice without bitterness and with much humanity and honesty…

-Kate Adie, Sunday Express.
Promise of Hope
by Colonel Mark Cook
(Hamish Hamilton & Penguin)
Telling about rebuilding an orphanage in Croatia. The book was filmed by the BBC and reviews included;
so moving I literally could not bear to do anything else but read it until I reached the end

– Anthony Beevor, Daily Telegraph.


A heartening and moving story

– Stephen Boyd, Sunday Times
Kathy and Me
by Gillian Taylforth
(Bloomsbury)
Covering the soap star's colourful private life, her experiences in EastEnders and the controversial libel case against News International following police allegations of gross indecency in a Range Rover on the A1. It was serialised in the Sun and is now in paperback.
An imperative read

 John Walsh The Independent
Bienvenida – The Making of a Modern Mistress
by Countess Sokolow (formerly Lady Buck)
(Smith Gryphon/Blake Publishing).
This autobiography, serialised in the Daily Mail, tells of a poor Spanish girl who became a successful international courtesan, rocking the British Establishment and delighting the media with her high profile affairs.
A Different Path
by Chief Olu Akinkugbe .
(West African Book Publishers Ltd.)
The life story of one of Nigeria's most distinguished industrialists, bankers and entrepreneurs.
A book carefully woven in evocative prose

Daily Independent

 
A 3-D picture of the past, the present and the future

The Comet

 
Makes almost poetic reading in its first few chapters, then settles down to a comfortable rhythm as it blends the author's life with the changes in Nigeria

Daily Champion

 
A down-to-earth, educative and flowing account

The Guardian
Ghostwriting
written in my own name.
(A Writing Handbook from A & C Black).
This book reveals all the essential mysteries of how to turn ghostwriting into a successful and lucrative career and how to hire a ghostwriter.
He knows the business very well, and it is a business he now explains clearly and in detail.
– Writer's News
I would like to thank Andrew Crofts for permission to use the quotes from his excellent handbook "Ghostwriting".
Robert Harris, author of "The Ghost"
How to Make Money from Freelance Writing
Written in my own name.
(Piatkus).
A very useful, totally practical guide

– Daily Mail


…dangerously inspirational…. It is always good to read a book written by someone who revels in his or her own career but you should always bear in mind that Andrew Crofts is not just a hard-working freelancer with a remarkable fund of ideas and enough drive to succeed in anything he tackles, but also a very talented writer indeed. This man could make a grocery list intriguing…

– CareerScope.

I have read a few writing manuals in my time but none has ever had a more positive effect than this one. It is informative and to the point. Well worth reading!

Five star Amazon reader's review
The Freelance Writer's Handbook
– How to make money and enjoy your life
Written in my own name
(Piatkus)
A brand new, completely updated version of the popular How to Make Money from Freelance Writing.
Incredibly handy guide to making a living
– Sue Cook, The Write Lines, BBC Radio Oxford.
Andrew Crofts' book is about the most practical, encouraging and upbeat guide you are likely to find ….. If you are a newcomer, perhaps fazed by all the problems of the business, this is the book for you.
Writers' News
Packed with information …. it tells you all you need to know to make a sustainable living doing what you most enjoy … This book is a must for anyone who does, or wants to write and be published. It is simple to read but brimming with the information necessary to be successful. ….This is a book that you should read several times if your ambition is to be published, and it is easy to dip in and out for reference. …. I would give it five stars for the simplicity in which so much knowledge and information is imparted.
New Books Magazine
Bette Davis
by Roy Mosely (written in collaboration)
(Sidgwick & Jackson)